Chapter Events, Photos, News and Scuttlebutt
Please feel free to send us your news and photos to share with other chapters in B.C.
Please also check out our
ONLINE RED HAT PHOTO ALBUM
at:
http://community.webshots.com/user/redhatsinbc
Newest Queen Mother...


Click photo above to see large, photo of Queen Rita of the Red Hot Mama's of Barriere at her "Coronation"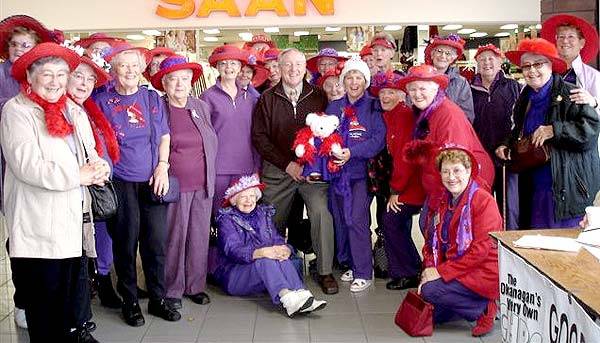 Canadians Buy Good News Bear For Food Bank Fund
The Crimson Cougars ( Osoyoos , British Columbia , Canada ) decided to forego exchanging Christmas presents and instead put the money towards sponsoring a fundraising Good News Bear handmade by Frieda Bergen. Hosted by CHBC-TV in Kelowna , the fundraiser donated thousands of dollars for the local food banks. The TV station took the bears on a mall tour to raise funds and displayed them on-air with viewers sending donations for a chance to win a bear. The Cougars were the first chapter to sponsor a bear in RHS colors and called it Desert Darling. Pictured is Queen Carole McGhie, members and TV celebrity Mike Roberts.
Maggie Soare of Wine & Roses chapter reports they too did a bear!
Well done red hatters!
Purple Pumps Chapter in "Alive Magazine" - November 2006 - click here
Peachland Peaches chapter plants tulips for Cancer - story & photos - click here
PICKLES CARTOONS ON RED HATTING CLICK HERE
Red Hat Sooke Sirens Celebrating Birthday - click here
NOTE: I have heard that Sooke will be doing a calendar again for 2008!
Rainbow Red Hots in Chilliwack - click here
Crimson Cougars - click here
Kelowna's Red Hot Diva's Summer Garden Party - click here
COPS FOR CANCER - RED HATTERS TAKE IT ALL OFF.....
(see photos below)
and raised over $1500.00 in the process.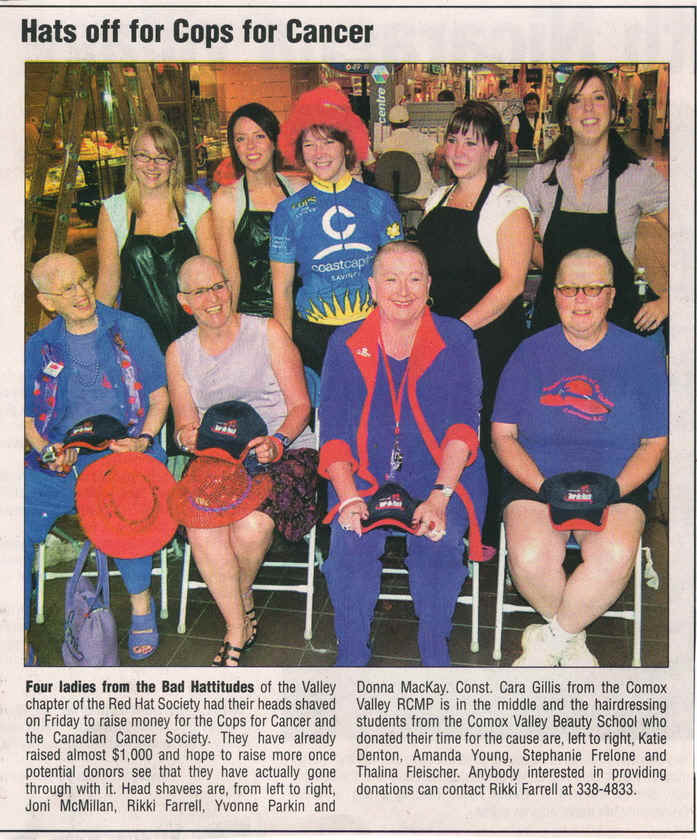 Bad Hattitudes of the Valley - Comox Valley, B.C. take it off in support of their friends with Cancer! Way to go girls!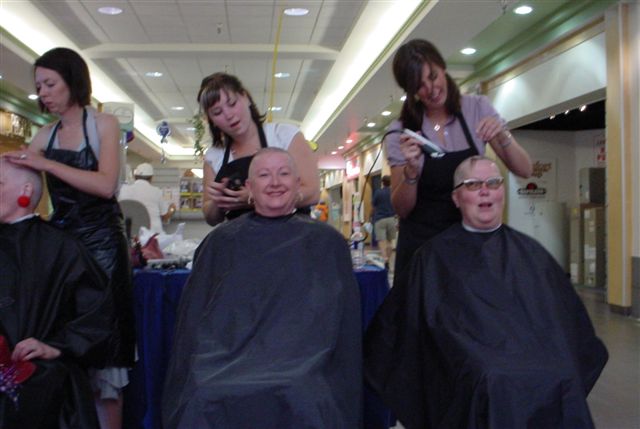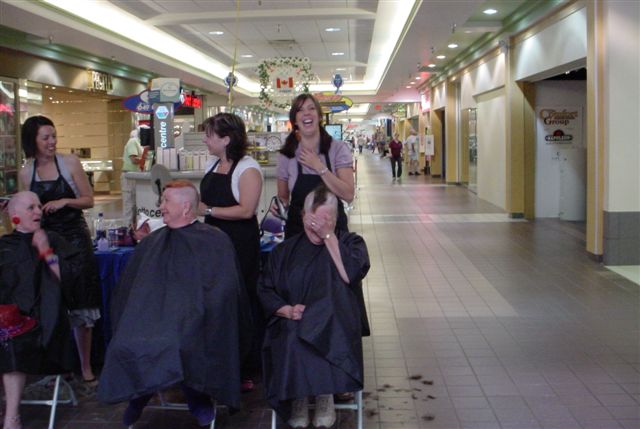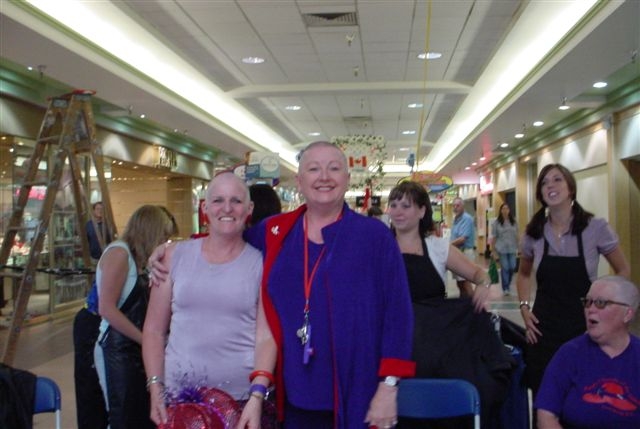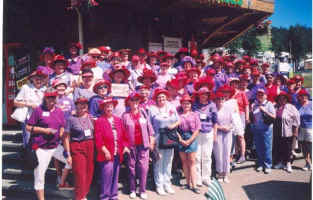 Mount Washington Lunch
Click on the photo above to enlarge for better viewing

CONGRATULATIONS TO: Southern Belles of Estevan, Saskatchewan
who won 1st Prize for this float in the July 1st parade in Beinfait, Sask.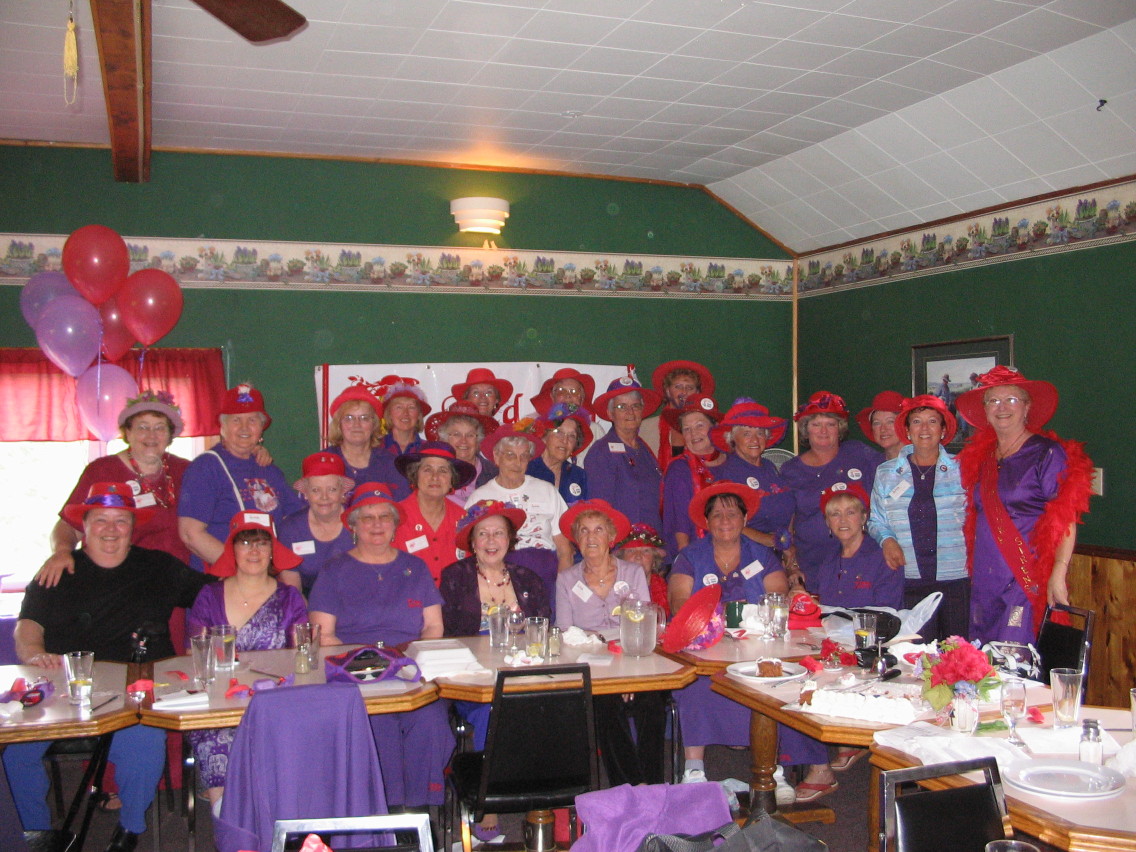 The Red Hat Sooke Sirens celebrated their first Anniversary with a big birthday party on May 31st, we had 32 ladies in attendance and our newest honorary Red Hatter Her Worship the Mayor of Sooke, Janet Evans also made a surprise appearance to join us for lunch at Mulligan's Bar & Grill where we had our very first get together one year ago,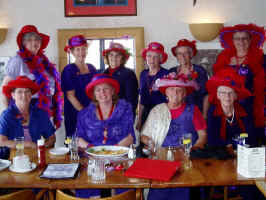 Okanagan Queen Mothers "do" lunch - May 16th 2005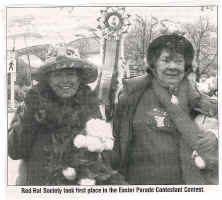 Click on the photos above to enlarge it for better viewing
Desert Queen Carole McGhie and one of her loyal subjects Crimson Cougar Ida Bergquist are shown here in the Osoyoos Times Newspaper with the BEST ribbon. The Easter Parade took place on Saturday even though it was a miserable, windy, cold and rainy day. They couldn't use the convertible because of the rain, but 12 good sports in full regalia walked in the bitter weather. To make up for their misery, they went to the pub after....a good time was had by all
The Red Hat Sooke Sirens went on a Mexican Riviera Red Hat Cruise. Queen Jane reports: "We had a wonderful time! There were ladies who joined us from Edmonton, Sherwood Park, Chilliwack, Comox and Vancouver. Every day was Red Hat Day and we took part in a Scavenger Hunt, PJ Party as well as all of the activities onboard ship. Watch for the details of their next cruise.
Queen Mother's "Queen's Council Luncheon"
February 27, 2005 at "The Jammery," Winfield, B,.C.
some of those who attended...


The Red Hat Sooke Sirens at the Empress Hotel - Victoria, B.C.
The Red Hot Divas at Summerhill Winery celebrating Valentine's Day, 2005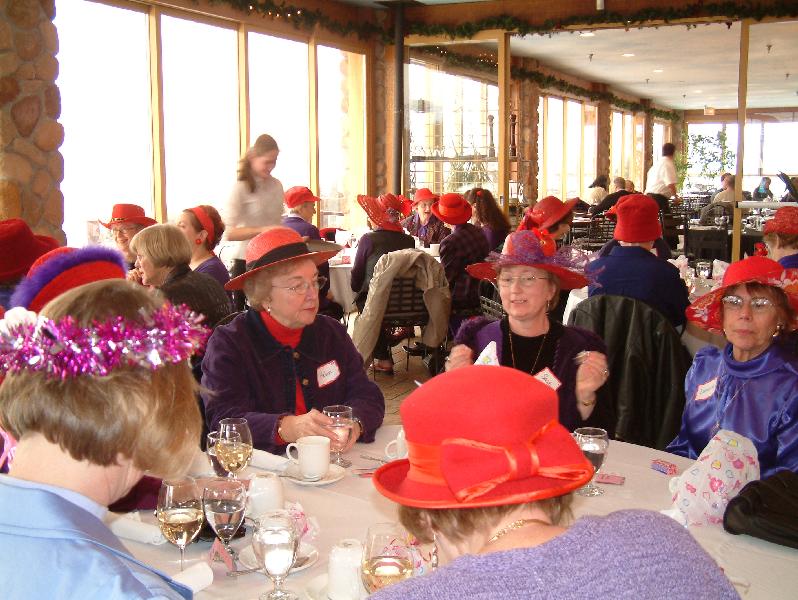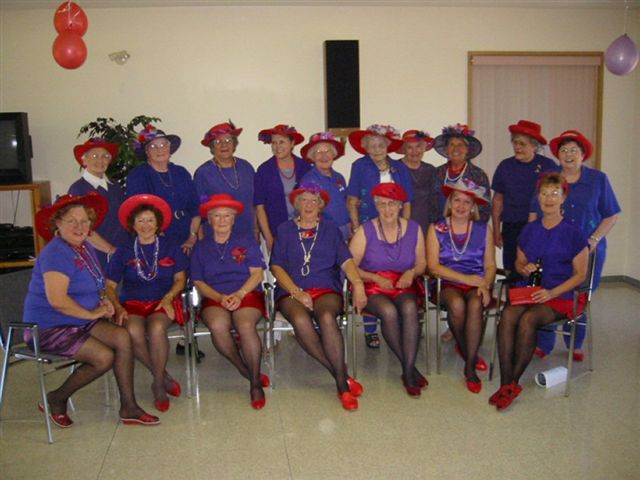 The Rainbow Red Hots in Chilliwack
in their red satin shorts and black pantyhose.
The ladies were hosting their "Father's Day" luncheon in June 2004
Below are the ladies from the "Luncheon of the Queens of the Okanagan - January 10, 2005
Bev, Margaret, Gail, Edna, Carole, Lynda


Click here to see the newspaper article on the Osoyoos, B.C. chapter:
The Crimson Cougars".
The Red Hat Sooke Sirens (Sooke, Vancouver Island, B.C.) did a Calendar for 2005. It sold out quickly and now they are taking orders for their 2006 calendar. Check their web site! http://sooke.org/redhats/

The Red Hot Jazzy Ladies in Kelowna at their summer Garden Party

The Daily Courier (Kelowna BC, Canada) Wed. Dec. 15, 2004
Annie's Mailbox by Kathy Mitchell and Marcy Sugar
WEDNESDAY, DECEMBER 15, 2004

Dear Annie: I read with interest the dilemma of "Grosse Pointe," who asked if there was a support group for the wives of retired husbands.

During the past several years, we have developed a loosely organized group of friends and relatives who refer to themselves as WORMs or Wives of Retired Men. We find potential members every time we go to the supermarket and see a woman being "organized" by her retired husband. One woman confided that she is glad he wants to be with her, but it drives her crazy that each morning he asks, "What are we going to do today?" We e-mail one another, and each of us tells our best retired story for the month. The one who wins gets to be president the next month.

The group gives us a chance to vent, without harming our partners or relationships, and we get a good laugh and know we are not alone. "Grosse Point" should find some friends in the same boat and have lunch once a month. -- Another Annie in Idaho

Dear Idaho: A good suggestion. Here are two more:

Dear Annie: After my husband retired from upper management two years ago, he drove me bananas. My boss and I came up with an excellent idea: force him back to school. After he took a few classes at the local university, he was offered a graduate research assistantship, and he now goes to college full time. It keeps his mind active, keeps him out of my way, and our marriage is better for it. At the age of 67, he is seeking his Ph.D. -- College Student's Wife

Dear Annie: I can recommend a different group called the Red Hat Society. It is for women over 50 to have fun, get together and just be outrageous. -- Jacksonville, Fla.

Dear Jacksonville: We've heard of the Red Hat Society (they recently had a parade in Chicago). It has more than 400,000 members in every state, plus Canada, Europe and Australia. Those who are interested can write to The Red Hat Society Inc. (www.redhatsociety.com), 431 S. Acacia Ave., Fullerton, CA 92831.

Annie's Mailbox is written by Kathy Mitchell and Marcy Sugar, longtime editors of the Ann Landers column.