Red Hat Recipes
to share and enjoy!
Everything is red or purple!

Red Hatters Love to Cook and Entertain
Red Hot Diva & Cordon Bleu Chef
Sylvia in her "Red Hat Regalia"
Click on any recipe to go to it below.
THE HISTORY OF APRONS - Queen Blabalot
Red Hat Ruckus, Kelowna B.C. May 5-7, 2006
I don't think our children and grandchildren know what an apron is.
The principal use of Grandma's apron was to protect the dress underneath, but along with that, it served as a potholder for removing hot pans from the oven. It was wonderful for drying children's tears, and on occasion was even used for cleaning out dirty ears. From the chicken coop, the apron was used for carrying eggs, fussy chicks, and sometimes half-hatched eggs to be finished in the warming oven. When company came, those aprons were ideal hiding places for shy kids. When the weather was cold, grandma wrapped it around her arms. Those big old aprons wiped many a perspiring brow, bent over the hot wood stove. Chips and kindling wood were brought into the kitchen in that apron. From the garden, it carried all sorts of vegetables. After the peas had been shelled, it carried out the hulls. In the fall, the apron was used to bring in apples that had fallen from the trees. When unexpected company drove up the road, it was surprising how much furniture that old apron could dust in a matter of seconds. When dinner was ready, Grandma walked out onto the porch, waved her apron, and the men knew it was time to come in from the fields to dinner. It will be a long time before someone invents something that will replace that "old-time apron" that served so many purposes.
Grandma used to set her hot baked apple pies on the window sill to cool. Her granddaughters set theirs on the window sill to thaw.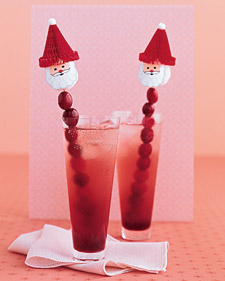 Ingredients
Makes 4
2 cups fresh or thawed frozen cranberries

1 cup pure maple syrup

2 cups dry red wine, such as Pinot Noir

1/2 cup packed light-brown sugar

1 vanilla bean, split, seeds scraped

Thin strips of zest from 1/2 lemon

2 teaspoons pink peppercorns, crushed

Pinch of coarse salt

2/3 cup granulated sugar

2 cups seltzer
Directions
1. Preheat oven to 350 degrees. Put cranberries into a large, high-sided skillet; set aside. Bring syrup, wine, brown sugar, vanilla bean and seeds, lemon zest, peppercorns, and salt to a boil in a medium saucepan, whisking occasionally.
2. Pour over cranberries. Cover tightly with foil, and bake until cranberries are soft but have not burst, about 10 minutes. Using a slotted spoon, transfer cranberries to a bowl; cover with 1 cup cooking liquid. Let cool completely.
3. Bring 1/2 cup cooking liquid and the granulated sugar to a boil in a small saucepan, whisking until sugar has dissolved. Reduce heat to low; simmer until liquid has reduced and barely coats the back of a spoon, about 6 minutes. Pour through a fine sieve into a medium bowl; let cool completely. Syrup can be refrigerated in an airtight container until ready to use, up to 3 days.
4. Reserve 40 cranberries. Puree remaining cranberries and liquid in a blender.
5. To serve, place 10 reserved cranberries on each of 4 decorative skewers. Pour 1/4 cup puree and 1/4 cup syrup into each of four 12-ounce glasses; stir to combine. Add skewers, and fill glasses with ice. Top with seltzer, and serve.
Strawberry Cheese Appetizer

Ingredients:
3 cups shredded sharp cheddar cheese
2 bunches green onions, finely chopped
2 cups ground pecans
8 oz. mayonnaise
1 sm. jar strawberry jam or preserves (topping)

Preparation/Instructions:
Grease a round pie dish with some mayonnaise. Mix all ingredients together. Press into pan and pack firmly. Refrigerate to set. Just before serving, top with strawberry jam or preserves. Serve with Wheatsworth crackers.
Prep:30 min
Start To Finish: 2 hr 20 min
Makes 16 servings
1 package Betty Crocker® SuperMoist® cake mix (any flavor)
Water, oil and eggs called for on cake mix package
2 tubs Betty Crocker® Rich & Creamy or Whipped ready-to-spread frosting (any flavor)
Ribbon and edible flowers (dianthus, pansies, violas)

1. Heat oven to 350ºF. Grease bottoms only of 1 round pan, 8x1 1/2 inches, and 1 round pan, 9x1 1/2 inches. Make cake mix as directed on package, using water, oil and eggs. Pour into pans.
2. Bake as directed on package or until toothpick inserted in center comes out clean. Cool 10 minutes; remove from pans to wire rack. Cool completely, about 1 hour.
3. Cut 6-inch circle out of waxed paper; place on 8-inch layer. Cut cake around circle with small knife to make 6-inch round layer; place on 9-inch layer, attaching pieces with small amount of frosting.
4. Frost cake. Trim hat with ribbon and flowers.

Note: To add texture to frosting, gently roll clean wicker basket over frosting.

High Altitude (3500-6500 ft)
Make cake mix following high altitude directions on package. Pour slightly more batter into 9-inch pan.


1 Serving: Calories 420 (Calories from Fat 160 ); Total Fat 18 g (Saturated Fat 9 g); Cholesterol 40 mg; Sodium 220 mg; Total Carbohydrate 63 g (Dietary Fiber 0g); Protein 2 g
% Daily Value: Vitamin A 0%; Vitamin C 0%; Calcium 4 %; Iron 4 %
RED VELVET CAKE from "Heloise"
In 1995 I asked my readers for a Red Velvet Cake recipe that had been a family favorite of a reader who lost it when her house burned down.

Heloise tasting four versions of Red Velvet Cake sent in by more than 15,000 readers!
Who knew this was such a popular cake recipe? I had loved it as a child and remembered how delicious it was, but could not find it in my cookbooks. So I turned to my wonderful readers, and boy did they deliver! Here is the quick version that is a snap to make.
1 (18.25 ounces) box yellow cake mix
5 eggs
1/2 cup vegetable oil
1 cup low-fat or regular buttermilk
2 tablespoons cocoa powder
2 ounces red food coloring
1. In a large bowl, combine the dry cake mix and only the ingredients listed above (do not add the ingredients listed on the cake box). Check the box directions to see how long you need to mix the batter and then bake according to the directions on the box for the size pans you are using.
2. Remove from the oven and let cool for a few minutes, run a dull knife around the edges, then carefully turn out onto a cake rack or plate to finish cooling.
Cream Cheese Icing
1 8-ounce package cream cheese, softened
1/2 stick butter, softened
1/2 box plus 2 tablespoons confectioner's sugar
1 teaspoon vanilla extract
Using a mixer, blend all of the ingredients together until smooth and creamy. You can add one or two drops of red food coloring for a pink icing, or leave it white for the traditional one.
RED VELVET CUPCAKES
2 1/2 c flour
1/2 c cocoa powder
1 tsp baking soda
1/2 tsp salt
1 c butter, softened
2 c sugar
4 eggs
1 c sour cream
1/2 c milk
1 bottle (1 oz) Red Food color
2 tsp pure vanilla extract
vanilla cream cheese frosting
Mix flour, cocoa, baking soda, and salt. Beat butter and sugar in large bowl with electric mixer (med speed) 5 min or until light and fluffy. Beat in eggs 1 at a time.
Mix sour cream, milk, food color, and vanilla.
Gradually beat in flour mixture on low speed until blended. Spoon batter into paper lined muffin cups filling 2/3 full.
Bake in preheated 350 oven for 20-25 min. Cool pans 5 minutes. Remove from pans and cool completely.
Spread with frosting... makes 30
Cream Cheese Frosting
Beat 1 8-0z package of softened cream cheese, 4 tbsp softened butter, 2 tbsp sour cream, and 2 tsp pure vanilla extract in large bowl until light and fluffy.
Gradually beat in 1 box (16 oz) confectioners sugar on med. speed until smooth.

Patti ' s Perfect Red Velvet Cheesecake

Makes 8 to 10 serving


1 1/2 cups chocolate graham cracker crumbs
1/4 cup melted butter
1tablespoon granulated sugar
3 (8 ounce) packages of cream cheese, softened
1 1/2 cups granulated sugar
4 large eggs, lightly beaten
3 tablespoons unsweetened cocoa
1 cup sour cream
1 1/2 cup whole buttermilk
2 teaspoons vanilla extract
1 teaspoon distilled white vinegar
2 ounce red food coloring
1 (3 ounce) package cream cheese, softened
1/4 cup butter, softened
2 cups powdered sugar
1 teaspoon vanilla extract


STIR- together graham cracker crumbs, melted butter, and 1 tablespoon granulated sugar; press mixture into bottom of a 9 inch spring form pan. BEAT- 3 (8 ounce) packages cream cheese and 1 1/2 cups granulated sugar at medium- low speed with an electric mixer for 1 minute. Add eggs and next 6 ingredients, mixing on low speed until fully combined. Pour batter into prepared crust. BAKE- at 325 degrees for 10 minutes; reduce heat to 300 degrees, and bake for 1 hour and 15 minutes or until center is firm. Run knife along outer edge of cheesecake, and let stand in oven for 30 minutes. Remove cheesecake from oven; cool in pan on a wire rack 30 minutes. Cover and chill 8 hours. BEAT- 1 (3 ounce) package cream cheese and 1/4 cup butter at medium speed with an electric mixer until smooth; gradually add powdered sugar and vanilla, beating until smooth. Spread evenly over top of cheesecake. Remove sides of spring form pan.

1 pound Strawberries in juice
1 large cool whip
1 store bought angel food cake
1can condensed milk


Thaw out the strawberries. In a big bowl, stir the condesed milk, half the cool whip, and strawberries together. Pour just enough mixture to cover the bottom of a long rectangular dish. On top of the mixture put bite size pieces of angel food cake. Pour the rest of the mixture on top. Spread out evenly. On top of that put the rest of the cool whip.
3 cups flour
3 teaspoons baking powder
1 cup butter
1 cup sugar
1/2 cup molasses
2 eggs
1 teaspoon allspice
1 teaspoon mace
1 teaspoon cinnamon
1 teaspoon cloves
1 cup fresh milk
Frosting:
2-1/2 cups icing sugar
1/2 teaspoon almond flavoring
2 teaspoons butter
1/2 cup fresh milk

Mix all ingredients together. Spoon into large, covered baking pot. Bake in 300 degree oven for 3 hours. After 2-1/2 hours take the cover off. Frosting: Next day. Combine icing sugar, almond flavoring, butter and milk. Mix well.

2 packages Strawberry Jell-O
1 cup Angel Flake Coconut
1 cup finely chopped nuts
3/4 cup evaporated milk
3/4 teaspoon almond extract
pinch of salt
1 1/2 cups sugar
slivered almonds
green food coloring
red food coloring


Mix jello, coconut, chopped nuts, evaporated milk and almond extract. Set in refrigerator for 10 minutes. While waiting, soak slivered almonds in green food coloring. Lay them on a paper towel. Use the red food coloring on 1 cup of the sugar. Use green food coloring on the 1/2 cup of sugar. Remove mixture from refrigerator. Shape mixture like strawberries, roll in red sugar, dip top of strawberry in green. Stick green almond sliver in the top.

Bing cherries - fresh or can
Brandy
Vanilla Ice Cream


Wash fresh cherries or drain canned cherries. Heat cherries in a pan on low heat. Pour a little brandy in serving dish and heat. Add cherries to the serving dish and add a little more brandy. Pour some brandy in a large serving spoon and heat the spoon. Light the brandy in the spoon and pour over the cherries. This will create the flame. Stir the cherries. Serve over vanilla ice cream in individual serving dishes.
One taste and you'll agree that these rich, creamy raspberry cheesecake bars are truly Betty's Best.

| | |
| --- | --- |
| 2 | cups Gold Medal® all-purpose flour |
| 1/4 | cup granulated sugar |
| 1/2 | teaspoon salt |
| 3/4 | cup butter or margarine, softened |
| 1/3 | cup light corn syrup |
| 2 | packages (8 ounces each) cream cheese, softened |
| 3 | eggs |
| 1 | cup light corn syrup |
| 2 | teaspoons vanilla |
| 3/4 | cup raspberry or strawberry jam |
| | Powdered sugar, if desired |

| | |
| --- | --- |
| 1 . | Heat oven to 375ºF. Grease bottom and sides of rectangular pan, 13x9x2 inches. |
| 2 . | Beat flour, granulated sugar, salt, butter and 1/3 cup corn syrup with electric mixer on medium speed until dough forms. Press evenly in pan. |
| 3 . | Beat cream cheese in medium bowl until smooth. Beat in eggs until well blended. Beat in 1 cup corn syrup and the vanilla until smooth. Pour over dough. |
| 4 . | Bake 35 to 40 minutes or until edges are light golden brown and filling is set (filling may appear puffy). Stir jam; spread over hot bars. Cool 30 minutes. Refrigerate at least 3 hours until chilled. |
| 5 . | For 36 bars, cut into 6 rows by 6 rows. Sprinkle with powdered sugar just before serving. Refrigerate any remaining bars. |
HINT
Softening cream cheese is easy! Just microwave cream cheese without the wrapper on High for 15 to 20 seconds
Mix 1 ½ ox tequila
¾ oz lemon juice
¾ oz triple sec
2 ½ oz cranberry juice
And ice
Mix in a shaker or blender.
Instead of salt, rim the glass in sugar (or colored red sugar)

1 pt. strawberries
1 (8 oz.) container plain, non-fat yogurt
1/2 c. skim milk
1/4 c. sugar
2 tsp. lemon juice
1 tsp. vanilla
Reserve 2 strawberries for garnish. In a blender, place all ingredients. Cover and whirl until strawberries are pureed and mixture is combined. Chill, covered, until ready to serve. Slice reserved strawberries; use to garnish soup. 3 servings.
Serves 5
INGREDIENTS
· 2 pints strawberries
· 2 cups plain yogurt
· 1/2 cup orange juice
· 1/2 cup white sugar
· 1/2 cup water
· 1/8 teaspoon ground cardamom
DIRECTIONS
1. In a blender, combine the strawberries, yogurt, orange juice, sugar, water and cardamom. Puree until well mixed. Chill and serve.
Chilled Strawberries and Cream Soup

Ingredients:
3 cups sliced strawberries
1 cup sour cream
1 cup half-and-half
6 tablespoons sugar (add more if strawberries are not sweet)
1/2 teaspoon vanilla
4 whole strawberries, for garnish (optional)

Directions:
Toss sugar into sliced strawberries to dissolve. Combine strawberries, sour cream, half-and-half, 4 tablespoons of the sugar, and vanilla in a blender. Blend until smooth, and then taste. Chill, covered, in the refrigerator. Serve in bowls and garnish each with a fresh whole strawberry. Makes about 4 cups
Strawberry Spinach Salad

Spinach is an anti-aging superfood! Packed with vitamin K, this leafy green is good for your bones and eyes, and just one cup provides more than 150 percent of your daily requirement. With the added bonus of red, ripe berries in this Zesty Strawberry Spinach Salad, from the August '08 issue of Family Circle, you just can't lose!

Whisk together 2 tablespoons extra virgin olive oil, 1 tablespoon balsamic vinegar, and 1 tablespoon red wine vinegar. Drizzle over 4 cups raw baby spinach and 2 cups sliced strawberries. Toss and top with 2 tablespoons crumbled feta cheese. Serves 4.

Per serving: 110 calories and 8 grams of fat.

STRAWBERRY BREAD
STRAWBERRY BREAD

1 c. butter
1 1/2 c. sugar
1/2 tsp. salt
1 tsp. vanilla
4 eggs
1 c. strawberry jam
1 tsp. lemon juice
1/2 tsp. soda
1/2 c. cultured sour cream
1 tsp. red food coloring
3 c. flour
Thin lemon icing for glaze

Cream butter, sugar, salt and vanilla. Add eggs, one at a time. Mix strawberry jam with the lemon juice. Dissolve soda in the sour cream. Add these two mixtures alternately to the creamed mixture. Stir in red food coloring and then add the flour.

Pour into a greased and lightly floured bundt pan or 3 small loaf pans. Bake at 350 degrees for 35 to 40 minutes or longer for the bundt pan. Drizzle with a thin lemon icing for glaze while still warm.
1 - 16 oz can Ocean Spray jellied cranberry Sauce
1 - 12-oz bottle Heinze Chili Sauce
1 - 2 pound bag frozen pre-cooked coctail size meatballs
Combines sauces in large saucepan. Cook over med. heat until smooth.
Add meatballs. Cover and cook for 15 min or until meatballs are heated through, stirring occasionally.
Makes 30 appetizer servings.

Slow cooker preparation: Place meatballs in slow cooker. Combine sauces and pour over meatballs. Cover and cook 4 hours on high.