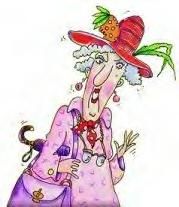 It's simple.
Queen Mothers*:
To join our mailing list send us an email with the name of your chapter, the number of members in your chapter, the name of a contact person, your address and phone number and email address....click on the lady above to email us.
Joining this mailing list is voluntary.
At NO time is your name or any personal information distributed to anyone. Your information submitted is confidential.
* You must be a registered chapter of the Red Hat Society and your chapter must be in British Columbia to be included in this mailing list.